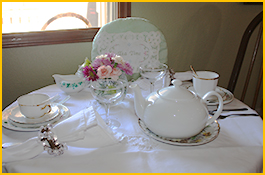 She was inspired by the idea of a tea room here. Wildflowers Tea Room quickly became well known, and a U.K. restaurant (Irish, Welsh, and Scottish as well as English fare) was the logical next step.

So what's next? We feel Robert Frost said it best... "Two roads diverged in a wood, and I... I took the one less traveled by,
And that has made all the difference."

The Odde family has made the Hilltop Inn an enjoyable retreat from the madding crowd...a quiet workplace for the weary traveler, a romantic getaway, and they continue to expand on the Wildflowers Restaurant's reputation as the Front Range's premier spot for U.K. fare and English teas.

...AND THAT HAS MADE ALL THE DIFFERENCE.