This is seriously one of the best hotels I've ever stayed at. I travel quite a bit for work and have stayed in a lot of different hotels all over North America. I normally stay at one of the major chains and Hilltop blows them away. The rooms are nice, big, and clean with fireplaces. What really sets the place apart though is the hospitality. As Jonathon said when he showed me my room (that is right, he showed me to my room- how cool is that?!)- the only thing you'll pay extra for is lunch and dinner. They have a fridge in the lobby with free sodas, a coffee bar, and one of the best breakfasts you'll ever have at any price, let alone for free. No powdered/microwaved eggs here. You can get just about anything and everything from real omelets to home made waffles plus some amazing potatoes.
A sanctuary of sanity...much needed break
I have visited a couple of tea rooms, none in Colorado, but decided to take my best friend and mother of small kids away for an afternoon when I visited Denver. We arrived before our reservation time, had to wait a bit, but got seated at a nice table. The hostess apologized that our scones were still in the oven, but on arrival they were steaming hot, yum! We followed the scones with a soup course--curried carrot for me and potato leek for my friend. Both were out of this world delicious and served at perfect temperature. The server was very attentive, without hovering. Finally, the savory/sweets tray arrived and we both ate too much of everything. Make the time to go--this was more fun than a spa day!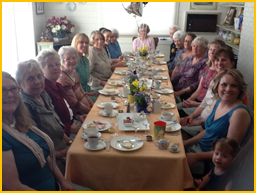 In only five years, the English Teas at Wildflowers Restaurant in Broomfield have become well known as one of Colorado's premiere tea experiences. Under the helm of Maureen Odde, an avid tea lover hailing from Northampton, England, Wildflowers offers delicious Luncheon and High Teas to enjoy.

Included are assorted premium U.K. and loose leaf teas, homemade scones and Devonshire cream and delectable savory sandwiches and desserts.

Sit by the fire and enjoy the company of your companions in an unhurried atmosphere, because at Wildflowers, your company is what we are all about.

PLEASE NOTE: Our tea service is served from 11am to 2pm Wednesday through Saturday. All teas are by reservation only, minimum 24hrs advanced notice. Gluten-free $2 additional charge. Vegetarian available. Our on-line reservations are made through Open Table and does not differentiate between lunch/tea times and dinner times. Thank you for your understanding.

Are you looking for that authentic high tea experience in the Boulder or Denver, Colorado (CO) area? Then visit Wildflowers Restaurant offering afternoon tea in a beautiful tea house setting where you will receive the same service, scones and sandwiches as experienced in many of the famous tea rooms in England. Consider us the next time you are going to have your favorite cup of tea in Denver .