I went to this restaurant
I was taking my boyfriend to Hilltop for Valentine's Day, not knowing anything at all about the restaurant. He is from England, and boast about being authentically English, I knew he would know if it was. The entire experience was wonderful. From the atmosphere to the service to the food, simply outstanding!!! My boyfriend was thrilled to be reminded of England, and I can't rave enough about the entire experience.
This is seriously one of the best hotels I've ever stayed at. I travel quite a bit for work and have stayed in a lot of different hotels all over North America. I normally stay at one of the major chains and Hilltop blows them away. The rooms are nice, big, and clean with fireplaces. What really sets the place apart though is the hospitality. As Jonathon said when he showed me my room (that is right, he showed me to my room- how cool is that?!)- the only thing you'll pay extra for is lunch and dinner. They have a fridge in the lobby with free sodas, a coffee bar, and one of the best breakfasts you'll ever have at any price, let alone for free. No powdered/microwaved eggs here. You can get just about anything and everything from real omelets to home made waffles plus some amazing potatoes.




We offer seating during the following times: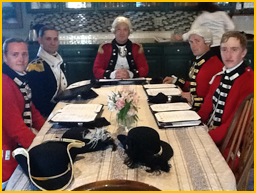 If you are looking for a unique dining experience in Broomfield, CO you need look no further than the Wildflowers Restaurant. Our kitchen brings authenticity to a selection of the tastiest foods from England, Ireland, Scotland and Wales.

Open for lunch and dinner, this is the place for slow cooked corned beef, home-made bangers and the most authentic fish and chips for miles around. Please feel free to view our menu, then come and taste the food that has garnered such a loyal following.

We feature a fully stocked bar, complete with ales and lagers from throughout the United Kingdom, assorted wines and a complete array of top-shelf cocktails.


Broomfield`s Wildflowers Restaurant is located off the beaten path in the Hilltop Inn, a guest house situated a stone's throw from the airport. Inside, you'll feel you've been transported to a homey British inn. Sure, the traditional antique furnishings and old school fare may not be everybody's cup of tea, but for expats or home-cooked meal aficionados, this venue delivers.

Read the full Article >>


Wildflowers Restaurant is an authentic British pub and restaurant located just outside of Denver Colorado (CO) . Come experience some of the best British food that you'll ever have in an English pub setting. Just make sure that you try the fish and chips or you will surely be missing out!